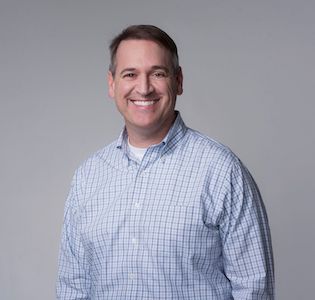 Missing teeth can cause a whole host of problems. Your self-esteem can be affected because your smile is not the same. Your facial shape may even change slightly due to the absence of teeth.
Your health can also be affected. When there are no tooth roots to stimulate the jawbone, you can end up losing more teeth and your jawbone can eventually begin to deteriorate. Over time, your other teeth may even shift into the gap left behind by a missing tooth.
Repairing these issues is part of what it means to provide you with top quality dental care. Our general dentist, Dr. Kevin Alexander, and the rest of our dental team can provide a way out of these problems and a way back to your beautiful, youthful smile: dental implants.
Long-Term Healing through Dental Implants
Dental implants are an amazing way to replace a missing tooth or teeth lost to accident, age, or periodontal disease.
You may be asking yourself what the difference is between dental implants and other tooth replacement options, such as dentures or bridges. The answer is in the structure. Many forms of tooth restoration replace only the crown, which restores both the look and biting surface of the teeth.
Implants, on the other hand, replace the entire missing tooth. From the titanium posts that act as artificial tooth roots, to the custom-crafted crown that tops it, a dental implant will give you a complete synthetic tooth.
This form of dental reconstruction is proven to positively alter lives, not only now, but for years to come. With a dental implant surgery, you could receive new teeth that last for the rest of your life.
How Implant Dentistry Works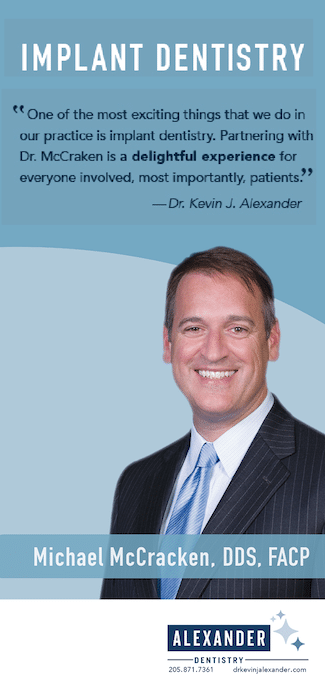 To complete the implant dentistry process, you will visit the office just a few times. The first step will be completed by our trusted professional implantologist, Dr. Michael McCracken. We will use CT scans to determine whether you have enough strength in your jawbone to support a dental implant.
Bone loss due to missing teeth can end up being very serious. However, you are not immediately disqualified from receiving an implant, should your bone loss be severe. Talk to us about bone graft options that can rebuild your jaw thickness.
If you have sufficient bone density, our oral surgeons will surgically insert the dental implants, or replacement tooth roots, into your jawbone. You will be given a few months to heal while the dental implants fuse with the jawbone, and then you will return to the office for the placement of the dental crowns.
After the healing process is complete, our dental specialists will complete your dental implants with beautiful dental crowns. These dental crowns will serve as your replacement teeth.
Implant dentistry gives you the opportunity to have a realistic smile and teeth that are fully functional and beautiful. You can count on dental implants to stay in your mouth while you enjoy your favorite foods, laugh at jokes, and smile in photos.
What Benefits Do I Get When I Use a Dental Implant to Replace Missing Teeth?
Implants as a tooth replacement option come with enormous benefits:
Dental Implants look and feel just like natural teeth.
You can eat, talk, and laugh normally again.
Experience an increase in confidence, as you smile with a complete set of teeth.
Full-tooth replacements help to keep your teeth and gums healthier.
Implants help prevent further tooth loss, and stimulate jaw bone growth.
Proper care can make implants last for the rest of your life, making this a long-term investment in your future health.
This is an incredible selection of benefits to receiving implant treatment, but that's not all. Even the treatment process is flexible and customizable, so that we can build a treatment plan specific to you.
The Flexibility of Dental Implants: Style Options
Dental implants come in a variety of styles, so we can find the best dental implants for your unique situation.
Mini Dental Implants
This style is an excellent option for those who may not have the bone thickness needed to support a traditional implant. The implant posts are smaller, but still highly durable and able to effectively replace any missing teeth.
Full Mouth Dental Implants
It is common for someone to be missing more than one tooth. Implants are a great way to handle multiple restorations. We can even offer an entire-mouth replacement, allowing you to once again have a complete set of teeth.
Implant Bridge
Bridges are traditionally supported by the teeth adjacent to the gap. However, there is an option of supporting a full dental bridge on an implant instead. Implant bridges are an excellent way to cut out the full dental implants cost, while still completely replacing multiple teeth.
Permanent Dentures
Much like the dental bridge, it is possible to attach a full set of dentures to a series of implant posts. Permanent dentures have the advantage of never slipping, never needing adhesives, and being strong enough to chew anything you want to eat.
Implants can also support a style of removable dentures, which allows you to continue avoiding adhesives without the permanence.
All-on-4® Treatment Concept
The All-on-4® Treatment Concept is a very specific method for placing denture implants with as much efficiency as possible. We strategically place only four implant posts, which then support the full denture plate. By using the All-on-4® Treatment Concept dental implants cost far less.
One-Day Dental Implant Restorations
Most implant procedures require several months in between the placement of the implant post and the completion of the implant with the dental crown. However, there is a way to get same-day dental implants.
With our "Smile in a Day" procedure, we change the order of a few steps in the implant process. By placing the crown before the dental post is healed, rather than after, you can walk out of our office with a full set of teeth in a day with our same-day implants.
How Can I Find Quality Teeth Implants Near Me?
If you make Alexander Dentistry your Birmingham implant dentist of choice, we can deliver a wide variety of implant options, along with the quality care you and your family deserve. Talk to our office today!