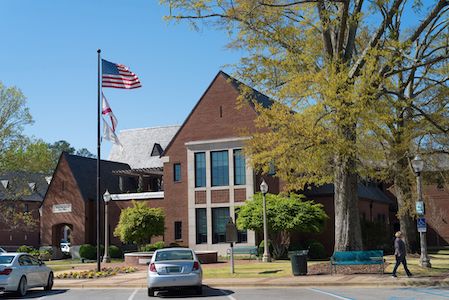 We believe that all of our patients deserve to have a full and complete smile that they are proud to share. For those who are missing teeth, our state-of-the-art dentures are a great way to fill in the gaps.
We offer both traditional dentures and implant-supported dentures. Come in for a consultation with Dr. Alexander, so you can decide together which option is the best way for you to get your beautiful smile back.
Traditional Dentures
Partial or full traditional dentures have been a popular option for many years, and people who are missing teeth continue to love them. Traditional dentures consist of a base that sits on the gums and replacement teeth. These dentures are easily removable for cleaning and maintenance.
Depending on the state of your gums and your overall oral health, traditional dentures may be the best way for you to have a full set of gorgeous teeth again.
Implant Supported Dentures
Those who are missing teeth can also choose implant-supported dentures at Alexander Dentistry.
Implant-supported dentures begin with dental implants, which are placed into the jawbone. These dental implants, or replacement roots, are tiny rods that stimulate the jawbone and keep your jaw and mouth healthy. The implant-supported dentures are then connected to the implants.
There are removable or permanent options for implant-supported dentures. Whichever option you choose, you will be pleased with how implant-supported dentures look and function like real teeth. The implants ensure that your replacement teeth stay securely in place, just like natural teeth do.
Implant-supported dentures can give you back your confident smile.
You Can Have a Full and Beautiful Smile Again!
To learn more about how you can improve your life with traditional dentures or implant-supported dentures, set up a consultation with Dr. Alexander. Call Alexander Dentistry today!