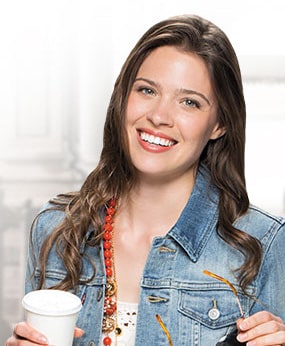 Many of us are familiar with the hassles associated with traditional metal braces. Patients with traditional braces have to deal with poking wires, broken brackets, applying wax, special maintenance, and an altered appearance.
For years, these side effects were unavoidable if you wanted to straighten your teeth. Now Dr. Kevin Alexander can provide an equally successful and much more comfortable way to straighten teeth: Invisalign® clear braces.
Smooth Plastic Comfort
Invisalign® clear braces are much more comfortable than metal brackets and wires. These clear braces are clear aligners that fit seamlessly over your teeth. There is no need to trim down wires or apply wax. Clear braces are sleek and simple. These aligners will not rub uncomfortably against your mouth or gums.
Clear Braces Confidence
Metal braces tend to negatively affect the wearer's overall appearance before they change a smile for the better. Now no one will even notice that you are wearing braces. Invisalign® clear braces are virtually undetectable and will not affect your appearance. Your smile should never have to look worse while you are trying to make it look better.
Easy Maintenance and Care
Invisalign® braces are easily removable, so you don't need to adjust your oral hygiene habits. Metal braces often require special floss and careful brushing to maneuver the brackets. With Invisalign® clear braces, you can simply remove your braces and brush and floss normally.
Quickly Straighten Teeth
Because Invisalign® clear braces are periodically refitted to work with your new teeth, it can be one of the fastest ways to straighten teeth. Dr. Alexander will provide you with a new set of clear aligners every few weeks as your teeth become straighter and straighter.
Beautiful Results
Invisalign® clear braces have seen a lot of success over the past few years. You will not be disappointed with how well these clear aligners can straighten your teeth to give you a new and improved smile.
Give us a call today at Alexander Dentistry to get started with Invisalign® clear braces.